Group classes
Monday: 19:15 to 20:45
Thursday: 19:45 to 21:15
Saturday: 15:15 to 16:45

Classes are on going, which means people can join at any time of the year. Beginners are welcome to all classes.

Group classes fees:

3 months: $250
6 months: $450
1 year: $845

Uniform: $65
We also offer some classes in Tai chi and Qi Gong.

Address
486 Ste-Catherine W. #305
(3rd floor, at the Studio Flak)
Montreal, Quebec
Canada
McGill metro

*Visits on appointment only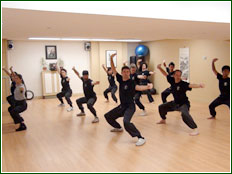 Private classes
It is recommended to take private classes for those who wish to refine their techniques. The advantage of private classes is by being alone with the teacher, the student gets full attention and can focus on the students weaker areas and improve them.
Contact Shifu Julien Valiquette to schedule a private class.
Private class fee:

$75 / hour